Content provided by United States Warranty Corporation
Do you have an upscale clientele? Read on to explore expanding your revenue and increase customer service within this niche market.
Our research indicates that this subset of buyers doesn't believe they need an extended service contract. Even more interesting, Marine F&I department heads indicated that the original factory warranty was "very long" and extended service contracts were not a necessary product offering.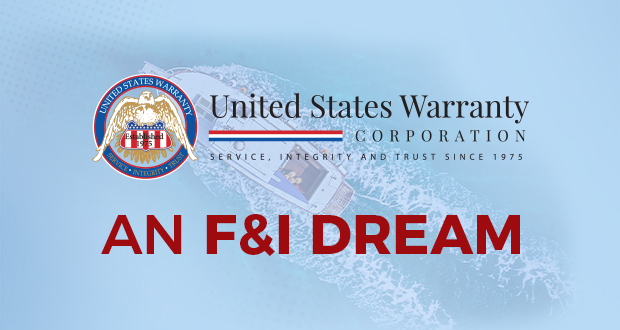 Two facts:
The average bow to stern factory warranty is 1 year with powertrain at 3-5 years. Boat owners replace their watercraft approximately every ten to twenty years; making it a valuable case for the investment protection conversation.

Based on our book of business, vessel purchasers opt for the comprehensive exclusionary plan for its hassle-free coverage. By definition: coverage for virtually all factory approved and factory or dealer installed electrical, electronic, hydraulic and/or mechanical parts essential to the operation of the watercraft. Consequential Damage is usually not included on exclusionary products but can be purchased separately. We have found that consumers ask for exclusionary plans with options of 9 & 10-year terms on Full Coverage and Engine Delete.


According to MRAA reports, pre-owned boat values have jumped recently and it's an absolute hurdle to the "build it and they will come" approach. Offering service contracts is a lead generation tactic for your online marketing team. The warranty follows the boat, giving your dealership potential reoccurring service center revenue. Don't let not having a comfortable pre-owned inventory hold back potential sales and service revenue. The pre-owned business is here to stay with an upscale clientele. Offering custom choices for pre-owned is a game changer. Another helpful product for your dealership might be a 90-day term for Craft Only pre-owned.
As the creator and administrator of service contracts for the outdoor vehicle industry for almost 50 years, having a one stop shop, cloud-based menu integration and solutions tailored to dealership needs is what an organization wants. Send your Watercraft extended service contract questions here.
Jay Demaske, VP Dealer & Agent Relations
United States Warranty Corporation
Phone: (800) 233-9878
www.uswceagle.com
www.calendly.com/jay-demaske