Hatteras/CABO Yachts LLC (Hatteras Yachts) released more details about the new Hatteras GT65 Carolina. This is the newest addition to the GT Series tournament-ready sportfishing boats, which includes the GT70, GT63, GT59, GT54 and GT45X.
The new GT65 Carolina will replace the GT63 and signals a new design direction, enhanced performance and custom features for clients seeking an alternative to either a custom builder or other competitors' ordinary off-the-shelf boats.
The new GT65 Carolina is scheduled to debut in Fall 2019.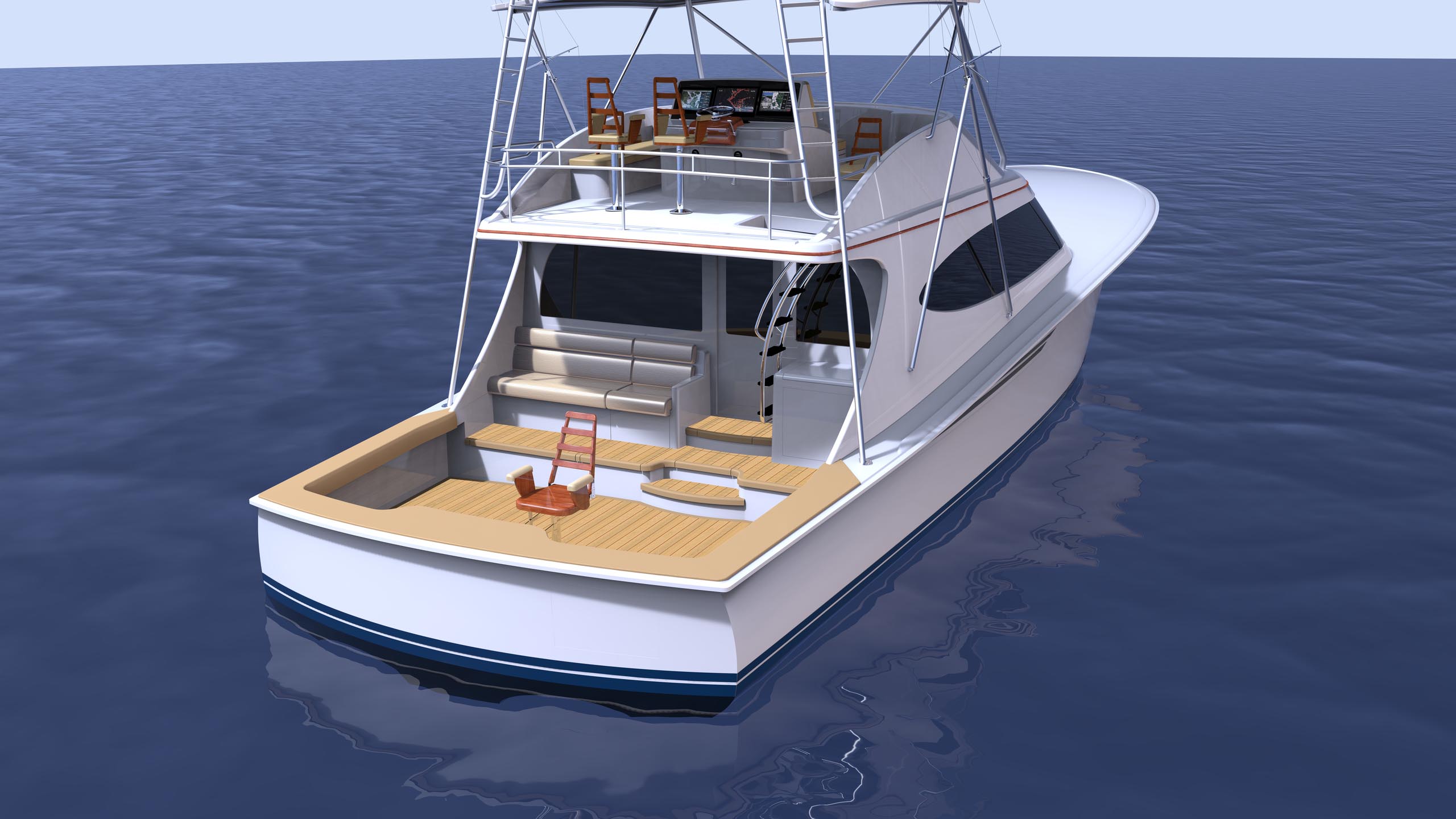 "Hatteras caters to customers who expect the most from their boats," said Hatteras/CABO President and CEO Kelly T. Grindle. "The GT65 Carolina will exceed the demands of the most avid angler. The boat will feature a cockpit, mezzanine and interior with greater volume, as well as higher performance in real-world conditions."
The first renderings of the new Hatteras GT65 reveal a sleek profile that refreshes the look of the GT Series, while still maintaining its core Hatteras DNA. Its new flybridge arrangement features an ergonomically designed console that puts all the controls within easy reach. It also incorporates the latest and largest navigation and fishfinding electronics in a non-glare, flush-mounted, "glass cockpit" helm array.
The GT65 Carolina's added volume is evident in its 194-square foot cockpit. The mezzanine incorporates optional integrated seatback air conditioning, and large stainless steel built-in storage boxes.

The GT65 Carolina's four-stateroom, three-head interior layout maximizes the boat's additional volume in both living and storage space. The ensuite master stateroom is the largest in its class, but guests billeted in the forward VIP will not feel slighted in the least. Two big bunk rooms allow owners to bring along a big team of anglers and crew.

The GT65 Carolina's key advantage lies in its new hull and tunnel design. Utilizing high-tech Computational Fluid Dynamics (CFD) analysis, Hatteras' team of engineers optimized hull form to ensure performance, handling and seaworthiness. In addition, the hull and stringer system will be infused as a single part, an industry first, to reduce weight and increase strength.
The GT65 Carolina incorporates an all-new layout of the engine room for ease of maintenance and serviceability. For owners seeking additional comfort, there is also an optional twin Seakeeper 9 installation.

Hatteras Yachts is building the first GT65 Carolina, due in Fall 2019, for tournament-winning sportfishing couple Chris and Laura Jessen, owners of Fish Tank Sportfishing. The Jessens have had tremendous success campaigning their Hatteras GT63 Fish Tank since 2012. Chris and Laura, along with Fish Tank's award-winning captain, Ben Horning, are collaborating with Hatteras on the new Fish Tank, and the builder has given them the opportunity to customize it to meet their competitive needs.
Additional features available on the GT65 Carolina include:
Sealed cockpit and additional fuel in lieu of fish boxes
Hull side vents with Delta -T system
Premium finish throughout engine room
Single-level controls with bow thrusters incorporated
Tackle room in lieu of fourth stateroom.
The first GT65 Carolina, Fish Tank owned by Chris and Laura Jessen, also will incorporate custom features such as: tower with carbon fiber hardtop and buggy top, tuna tubes, and a custom wood interior.

"We're thrilled to partner with the team of seasoned engineers and boat builders at Hatteras to ensure the GT65 Carolina will continue to enhance our competitive sportfishing lifestyle," Chris Jessen said.

"I'm thrilled with the collaborative results of the project team, including: Hatteras engineers and designers, Chris and Laura Jessen, Capt. Ben Horning, Scott Roberton and Pete Havens," said Grindle. "The GT65 Carolina will be second-to-none."